Click below to learn to more about WATEA,
including how to become WATEA's newest member!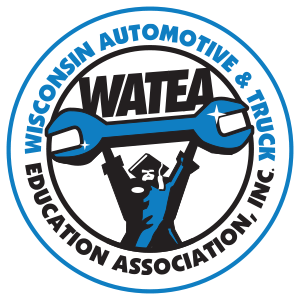 Download the WATEA Promo flier and
---
Option 2:

Mail the Membership Registration Form

(flier P. 3)
and payment to:
WATEA, 617 Forest Street, Wausau, WI 54403
Questions about membership?
Email admin@watea.org or call (715) 581-9283
---
What's in it for you? Well, besides the fact that you'll be helping to dispel the outdated image of industry workers as "grease monkeys" and replacing it with the image of today's technical professionals AND strengthening our industry as a whole...You'll--
Help us develop awareness of career paths and opportunities available in the automotive and truck industry.
Promote basic, technical, and continuing education for workers in the automotive and truck industry.
Help improve and enhance the image of the automotive and truck industry.
Help recruit and train skilled workers through involvement with Youth Apprenticeship programs, vocational training, and continuing education and training development in your area. Mentor youth and help develop a whole new generation of technical professionals.
Provide input into the training curriculum and requirements in your area—help develop a career track that meets your changing needs in the industry.
Get involved in the schools--at the primary, secondary, or post high-school level to share career information about automotive careers with youth and adults.
Stay current with educational needs and progress in the industry with Your Quarterly Connection—the WATEA newsletter that will keep you up to date on developments in automotive and truck education, the automotive and truck industry, training programs, and progress toward our goals. Delivered to you four times each year.
Full access to all WATEA sponsored training programs and seminars and information on other training events in your area.
Participate in developing and funding scholarships for potential automotive students.
Help develop and link into a comprehensive website as a resource for anyone interested in a career in the automotive and truck industry.
Eligible to be a part of the Wheels to Work initiative.
Join at the table as a new transportation sector group that charts upcoming growth.
Download a membership registration form (below) to get started today!
---